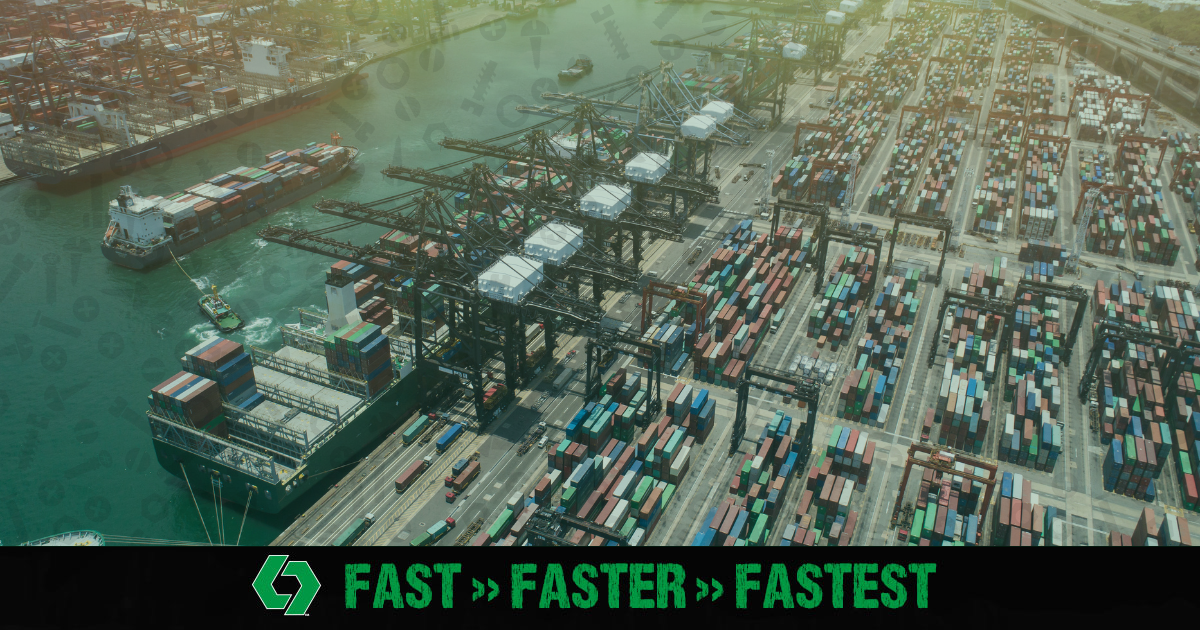 Fasteners are a critical component to the success of most assembly operations. It's fair to say that there wouldn't be much of anything completed in this world without fasteners — at least not as quickly, effectively, or efficiently as we currently do. So, when supply chain disruption occurs and fasteners become unavailable, it causes headaches for everyone involved. Here's a summary of what you need to know about the current fastener supply chain disruption and how Eurolink FSS is responding to it.
Global Supply Chain Challenges Are a Major Concern For Fastener Distributors
Supply chain challenges are a major concern of fastener distributors, like Eurolink FSS. Managing the fastener supply chain is difficult because of the wide variety of fasteners and their unique characteristics. For example, the sizes, material, varying thread pitches, and shank lengths can affect the availability of a product and how quickly we can ship them out to our customers.
One way we are helping our customers manage their fastener supply chains is by offering multiple freight options for a choice of Fast, Faster, or Fastest. Customers can choose between a variety of freight options based on their needs including monthly consolidated sea freight, Weekly consolidated air freight, and expedited air freight options (depending upon the specific product). While delays are likely to happen with current supply chain issues, providing these multiple options has allowed our customers more flexibility.
Which Fastener Manufacturing Hubs Have Been Affected?
For the specific fastener markets, the United States, China, Germany, and Taiwan are among the biggest fastener manufacturing hubs. Exports from China and Germany have been impacted heavily since the start of the 2020 pandemic.
Fastener Manufacturing in China
China is the largest producer of fasteners in the world and accounts for about one-third of global output. In 2017 alone it produced about 425 million metric tons (mt) of fasteners (including bolts and screws) worth $57 billion USD. This is expected to grow further this year (2022) - It is estimated that China will be producing over $72 billion USD worth of these products annually.
Fastener Manufacturing in Germany
Germany has been a major player in worldwide fastener production for centuries now. Germany produces around 215 mt/year which is worth approximately $21 billion USD annually. This is also expected to increase this year to about $22 billion USD per year due to the higher demand from European countries such as France. Europe relies on German manufacturers to supply them with their high-quality steel products like screws and nuts which are used extensively throughout building construction projects across Europe today.
Which Shipping Ports Are Most Vulnerable?
Ningbo, China Port
The port of Ningbo is one of the largest ports in China, and it's also the biggest port in the Yangtze River Delta region. It's a major port for China's exports; according to data from Chinese customs authorities, over 12% of all exports from this area were shipped through Ningbo last year. It's also a major port for China's imports; about 20% of all containerized imports into China go through Ningbo each year.
If Ningbo is locked down due to COVID outbreaks or other issues, then most of these shipping volumes have no alternative location to go, so it has had a big impact on the supply chain for both exports and imports in Jiangsu and Zhejiang regions.
You've probably read that Ningbo port, which was locked down last August, was again closed earlier this year as part of China's efforts to stop the spread of the COVID-19 virus. The lockdowns at the Ningbo and Shanghai ports have created logistical bottlenecks and have accelerated supply chain disruptions. Shipment delays between China and the major US and European ports have quadrupled since late March.
Shanghai, China Port
Due to the lack of people working due to Covid lockdowns, the Shanghais port has had a huge drop in productivity. The container wait time at the port has been extended again,
according to CNBC's new Supply Chain Heat Map.
According to CNN, "at the peak of the lockdown in Shanghai, containers were sitting for as many as 15 days at the port before being picked up by truckers, up from fewer than 5 days when the restrictions first took effect, Project 44 data showed. The average wait time has since come down but it was still 10 days."
How Have U.S. Shipping Ports Been Impacted?
In the United States, West Coast ports have been heavily impacted. In April, there were 16,000 rail containers waiting to be loaded onto trains at the Port of LA, which is almost twice what the port received in the fall of 2021. It was said that there were so many containers that if they were stacked one next to each other, they would stretch across the 405 freeway in California (about 72 miles long) and back three times — with room left over.
According to MarineTraffic and Blume Global data, "the Port of Oakland California tops the list of congestion with vessels taking six days to unload and load." and "The Port of Los Angeles is the second-highest in wait times, clocking in almost 10 to 12 days"
The congestion on the West Coast has made the East Coast ports busier than ever. The Port of New York and New Jersey has historically been the busiest port in the U.S., but it's also the largest on the East Coast. It's no surprise then that when we're talking about congestion at West Coast ports, we're also talking about increased flow to Eastern seaboard ports such as New York, Charleston, and Savannah.
What Is Eurolink Doing About Fastener Supply Chain Issues?
Our biggest differentiator from standard distributors is that Eurolink's shipments are sourced from Europe. Our metric fasteners are sourced from countries such as Germany, Italy, Switzerland, Poland, Spain, France, and Great Britain. While European ports have seen supply chain and manufacturing delays, it has not been impacted as heavily as the Chinese ports.
Eurolink FSS is helping its customers in the fastener industry by providing multiple freight options, and being transparent about order shipment dates and delays. Transparent communication is extremely important to the Eurolink team. We are working hard to quickly help our customers in the fastener industry despite supply chain disruptions.
Order shipment dates and delays are communicated regularly by Eurolink FSS to ensure that you know exactly where your order stands in the process at any given time. You can join our newsletter to get updates on consolidated sea freight and air freight order dates and deadlines - Fill out the form below:
We are continuing to offer multiple freight options in order to provide flexibility. Learn more about our Fast, Faster, or Fastest options which include:
Monthly consolidated sea freight
Weekly consolidated air freight
Express air freight
You can contact our sales team now to get quotes for all your metric fasteners and get it ordered by the next freight order deadline.
Next Steps
While the pandemic has certainly disrupted the supply chain for fasteners, there are many practical steps you can take to ensure your organization or project doesn't suffer from these delays. Take a look at where your current stock is sourced, and keep an eye on any supplier-related COVID-19 news (including government regulations). If needed, look for an alternative supplier. Eurolink is your go-to sourcing partner for those "No Quote," and "No Stock" metric fasteners.