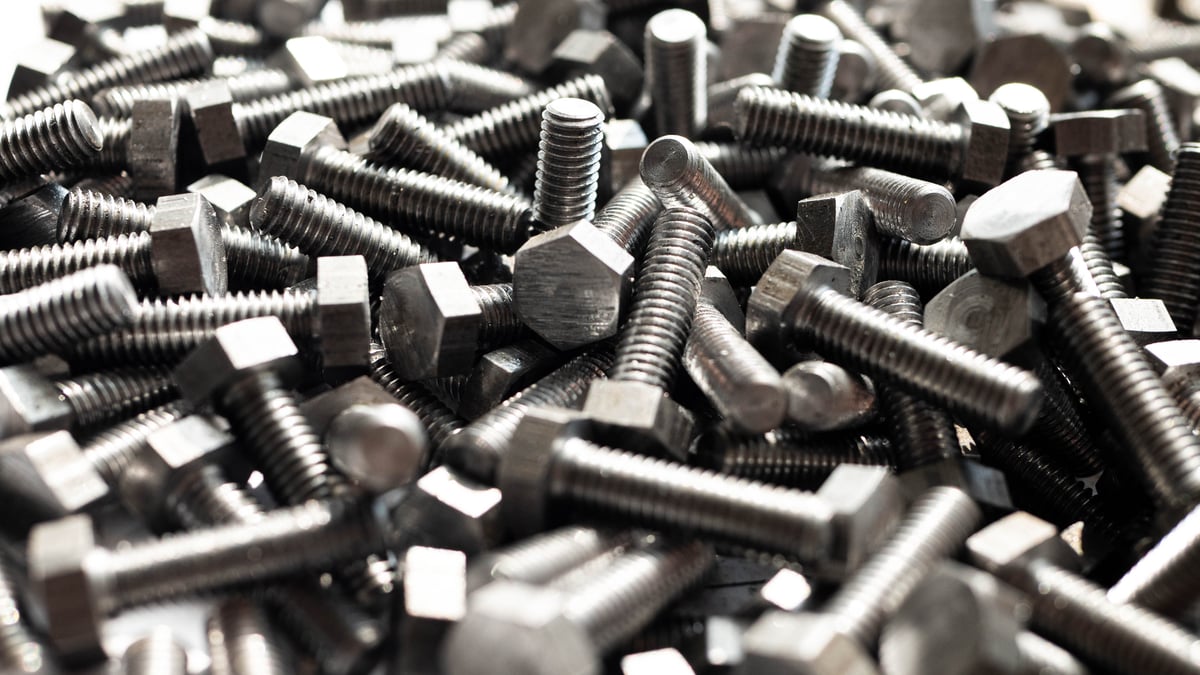 For many Americans, the metric system is confusing and difficult to work with. But the great news is that metric fasteners follow a clear formula in their naming conventions.
Metric fasteners are named using the diameter, pitch, and length. Let's take a look at an example of how to pull apart the name of a fastener to learn more about its characteristics.
Fastener name: M12-1.25 x 20
The M indicates that the measurement for the fastener is metric.
The 12 tells you the diameter in millimeters.
1.25 explains the distance between threads, also known as the pitch.
20 tells you how long the fastener is in millimeters.
To determine the coarseness of metric fasteners you should know that as the number gets larger, the thread pitch becomes coarser. These different levels of coarseness can be used for different purposes.
For example, coarser fasteners are often used as car parts while finer pitch fasteners are more common in plumbing fixtures.
Converting Metric Pitch to Threads Per Inch
People accustomed to working with inch fasteners might get confused when switching to metric. That's because inch fasteners explain how many threads per inch a fastener has instead of the space between threads.
But you can easily convert the pitch of a metric fastener to understand its threads per inch. Here's the formula you'll follow.
Convert the pitch from millimeters to inches by multiplying the pitch by 0.03937.
Divide 1 by the number you got in step 1.
To make things simple for you, we've added a table below that converts metric pitch to threads per inch.
Table 1. Fastener thread pitch conversion from millimeters to inches to threads per inch.

Pitch

(mm)

Pitch

(inches)

Threads

per Inch

0.2

0.0079

127.00

0.25

0.0098

101.60

0.3

0.0118

84.67

0.35

0.0138

72.57

0.4

0.0157

63.50

0.45

0.0177

56.44

0.5

0.0197

50.80

0.6

0.0236

42.33

0.7

0.0276

36.29

0.75

0.0295

33.87

0.8

0.0315

31.75

1.0

0.0394

25.40

1.25

0.0492

20.32

1.5

0.0591

16.93

1.75

0.0689

14.51

2.0

0.0787

12.70

2.5

0.0984

10.16

3.0

0.1181

8.47

3.5

0.1378

7.26

4.0

0.1575

6.35

4.5

0.1772

5.64

5.0

0.1969

5.08

5.5

0.2165

4.62

6.0

0.2362

4.23
What to Do if Pitch Isn't Indicated
A widely accepted way of referring to a fastener's pitch is by indicating it is coarse or fine. In some rare cases, you might also see extra fine threads.
Some fasteners don't indicate a pitch size. So what do you do if there isn't a clear indication? Fasteners that exclude pitch information are generally classified as coarse.
What you have to watch out for is that fasteners classified as coarse that use threads per inch are generally even more coarse than metric fasteners that are classified as coarse.
For example, M14-2.0 screw is considered coarse. Its threads are spaced 2.0 millimeters or 0.079 inches. On the American scale, the 9/16-12 screw is considered comparable and has a coarse classification as well. However, its threads are spaced 0.083 inches apart.
In this example, the American screw would have a coarser pitch than the metric one. There are some rare instances where the comparable American equivalent is finer than its metric counterpart, so you'll want to pay attention and use the conversion information listed above.
Comparing Length of Metric Vs. Inch Fasteners
One common ground for fasteners is how to measure the length. The only difference is that metric uses millimeters to indicate the length and American fasteners use inches. Here's how to measure various types of fasteners.
Socket, low socket, cheese, hex, button and pan: measure the fastener's length as everything under the head.
Flatheads: measure the entire fastener from head to the end.
Oval heads: measure from where the dome top and conical bearing meet down to the tip of the fastener.
Metric Fastener Materials
Once you understand the naming conventions for metric fasteners, you'll have another decision to make before purchasing. Fasteners can be made from a variety of materials, including:
Steel
Stainless steel
Aluminum
Brass
Hot dip galvanized
Polyamide
Silicon bronze
And more…
Your Expert for Hard-to-find Metric Fasteners
Here's a summary of what you need to remember about fasteners and their sizing classifications.
Diameter: larger numbers indicate larger fasteners
Pitch: larger numbers indicate a coarser thread (fewer threads per inch). If there is no pitch indicated, assume that it is coarse
Length: larger numbers indicate a longer fastener
Eurolink Fastener Supply Service provides expertise to help you find the fasteners you need – even if they're rare and hard-to-find. When you need expert advice and service based in the USA, contact us!