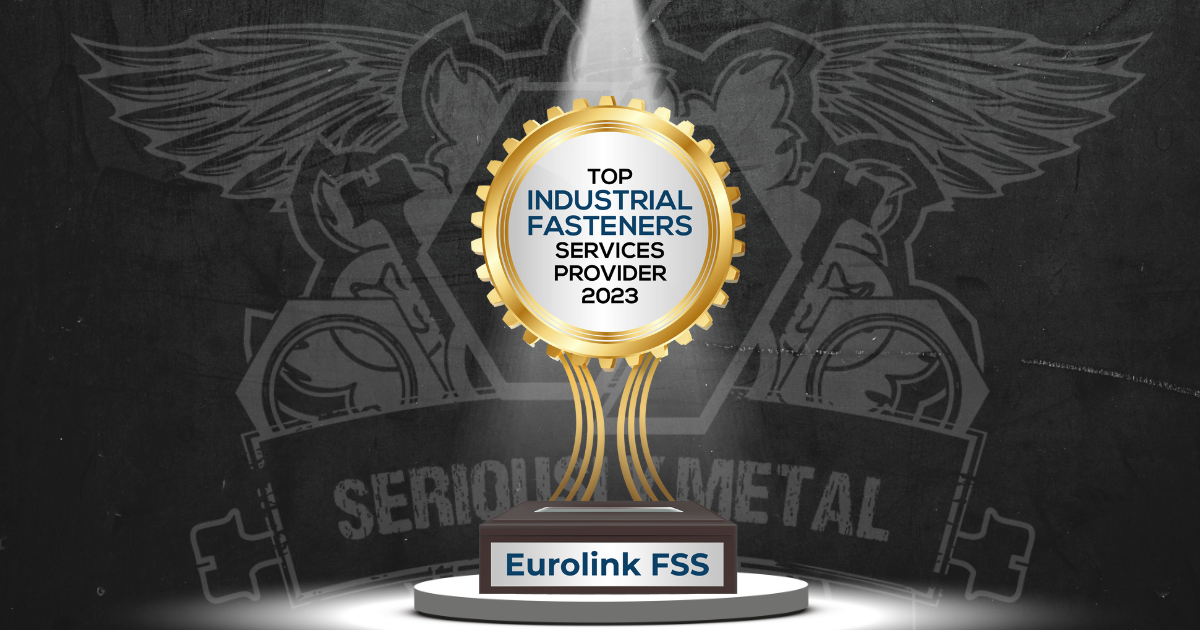 We are thrilled to share some fantastic news with all of you. Eurolink FSS has been recognized in Manufacturing Outlook's 2023 annual listing of 10 companies that are at the forefront of providing Industrial Fastener Services and transforming businesses. Woo-hoo! It's an absolute honor to receive this prestigious recognition, and we couldn't be prouder of our hardworking team and amazing customers who have been with us on this incredible journey.
You can go to Manufacturing Outlook's website to read the recent profile of our team and president, Craig Penland, but if you read on you'll get to know some of the things we are most proud of from the article.
Here is what we are proud of:
Bridging the Gap in Metric Fastener Supply
Let's talk about what we do best! At Eurolink FSS, we are on a mission to solve the tough challenge of sourcing hard-to-find metric fasteners in the U.S. market. These small parts play a big role in keeping industries running smoothly, and we know how vital it is for our customers to find them when they need them. That's where we step in! With over 23 years of experience under our belt, we are proud to be a go-to partner for industrial service providers searching for top-quality metric fasteners.
A Vast Catalog of Quality Metric Fasteners
Our journey has been nothing short of exciting! We've curated an extensive catalog of over 100,000 top-notch C-class parts sourced from incredible places like Germany, Italy, Switzerland, France, and Great Britain. These metric fasteners, including A4-80 stainless steel fasteners, hex head cap screws, and bolts, all meet ISO and DIN standards. So, you know you're getting the good stuff!
You can download our line card to look at our selection of metric structural bolts. Use the line card as an easy reference for your future purchases.
Or you can use our DIN/ISO standards conversion chart as a helpful quick reference when you are placing your next order.
Reliability Through Fast Freight Options
We know how essential it is for our customers to have a seamless supply of metric fasteners, especially when things get a bit rocky. That's why we're proud to say that we have three freight options available to our customers so they can choose the speed of delivery based on their needs. We have our FAST, FASTER, and FASTEST freight options to quickly get metric fasteners from Europe, ensuring an uninterrupted flow even during challenging times. Our customers have trusted us to keep their projects moving forward, and we're so grateful for that trust!
You can learn more about our Freight options on our website. You can also subscribe to our newsletter by filling out the form below to get updates on consolidated sea freight and air freight order dates and deadlines:

Stories of Success and Partnerships
We're all about success stories and partnerships that make our team proud to work here. Take our Canadian distributor, for example. They were in a tight spot, searching for ISO-certified stainless steel hex head cap screws. Other importers were offering substitutes, but that wasn't going to cut it. Enter Eurolink FSS to the rescue! We understood their needs and provided the right fasteners, and from that moment on, our partnership blossomed into something truly special. We've been supplying them with fasteners for their critical railway projects for over 12 years now, and we couldn't be happier! We want to be the hero for our customers so they can be the hero for theirs.
The Heart of Eurolink: Our Exceptional Staff
You know what they say—behind every great company, there's a rockstar team. And boy, are we lucky to have such a fantastic crew! It's not just a bunch of individuals; it's a crew full of know-how, passion, and commitment. Every member brings their unique skills to the table, creating a dynamic blend that ensures your needs are met. We're all about open conversations, understanding what you need, and going the extra mile to make it happen.
Picture this: you're in search of those elusive, hard-to-find parts. You're tired of the runaround and the frustration of being told "no." That's where our extraordinary staff steps in. Armed with industry smarts and a genuine desire to help, our team goes above and beyond to track down those tricky parts.
So, when you think of Eurolink, think of a passionate team that's dedicated to your success. Our staff embodies the spirit of outstanding customer service, ensuring that your experience with us is nothing short of exceptional. Together, we're not just providing metric fasteners; we're crafting partnerships, building trust, and driving the wheels of our industry forward.
We work together like a well-oiled machine and we couldn't be prouder of the team that keeps the spotlight on what truly matters—the happiness and satisfaction of our valued customers. It's a blessing that we have been able to put together a team of such wonderful and passionate people.
Get to know our awesome team on our About page!
The Future Looks Bright
We've been growing by leaps and bounds, and the best is yet to come! We're thrilled to unveil our new North American headquarters right where it all began—the Upstate of South Carolina, our home for over 23 years. This is a dream come true, and we're planting our flag here with pride.
The future's looking brighter than ever. Our expanded headquarters means more metric fasteners to meet the growing demand. But it's not just about products; it's about the journey we're embarking on with you, our amazing customers.
Together, we're stepping into this new chapter, armed with even more passion and experience. The best is yet to come, and we're excited to share every moment with you.
Hard-To-Find Metric Fasteners… Delivered! By Our Hard Working Team
We couldn't be prouder to be recognized as one of the Top 10 Industrial Fastener Services Providers spots this year in Manufacturing Outlook Magazine. It's been a journey filled with hard work, passion, and amazing partnerships. To all our wonderful team members, customers, and vendors, thank you for being part of this incredible ride. We promise to keep delivering hard-to-find metric fasteners and unrivaled customer service, just as we've always done.
To our fellow industrial distributors out there, keep on rockin' it! Let's continue to make our industry thrive together. Fast, Faster, and Fastest – we're here to keep things moving forward!