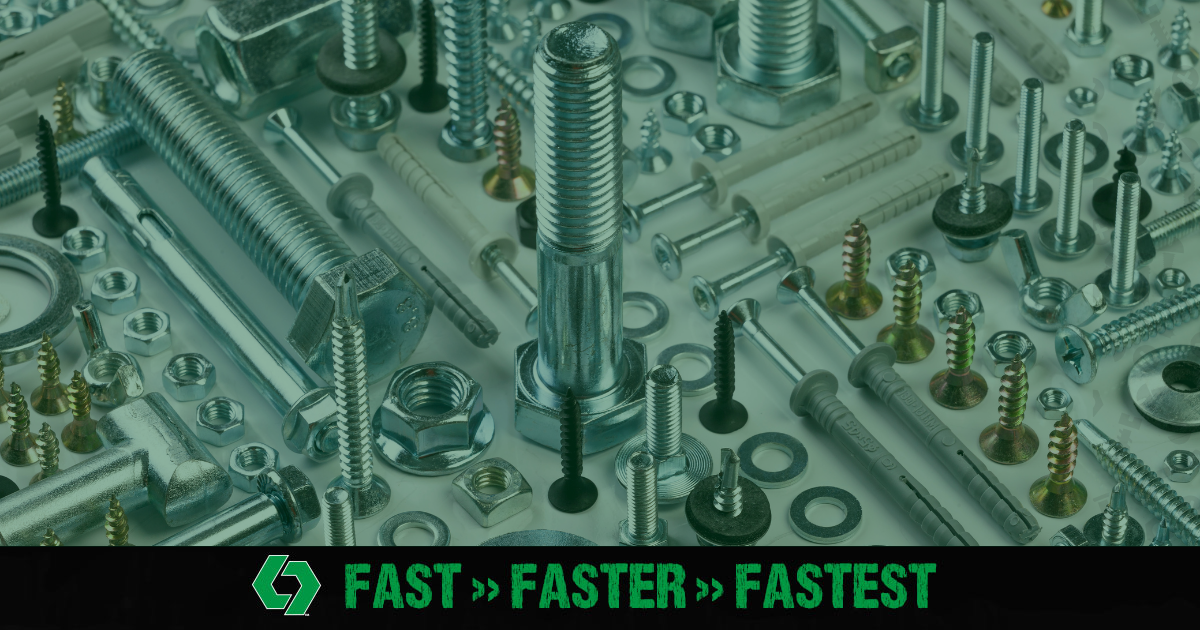 In the world of manufacturing and industrial operations, a seamless procurement process is like a well-oiled machine—efficient, reliable, and essential for success. For purchasing professionals, the task of sourcing fasteners and other important parts can be a crucial yet often complex endeavor. Fortunately, by embracing some best practices and strategic approaches, the procurement process can be streamlined, leading to better outcomes, reduced risks, and improved overall efficiency. Take a look at some helpful advice from our experienced Eurolink team:
1. Find the Right Partner
The foundation of a streamlined procurement process lies in choosing the right partners. Start by conducting thorough research on potential suppliers. Check their track record, customer reviews, and industry reputation. Collaborate with suppliers who have a proven history of delivering on their promises and meeting deadlines. Look for partners who share your company's values and are committed to long-term relationships.
Consider these tips from our experts:
Research supplier reputation and customer feedback.
Prioritize suppliers with a history of reliability. Take a look at their reviews.
Choose partners aligned with your company values.
2. Prioritize Product Quality and Compliance
Fasteners might seem like small components, but their quality can significantly impact overall product performance and safety. Prioritize suppliers who provide certifications and adhere to industry standards such as ISO and DIN. Quality assurance should never be compromised, as it prevents future issues and safeguards your reputation. Even when you aren't sourcing fasteners, quality, and compliance should be high on your list of qualifications when choosing a sourcing partner.
Consider these tips from our experts:
Demand product certifications and quality documentation.
Seek suppliers compliant with industry standards.
Prioritize quality to ensure product safety and performance.
4. Consistency and Inventory Management
A consistent supply of the items you need is pivotal to your operations. Establishing strong relationships with suppliers can ensure a continuous flow of products and even lead to cost-saving opportunities. Long-term partnerships often come with benefits such as bulk discounts and priority access to in-demand items.
Overstocking or understocking products can disrupt your operations and budget. Employ forecasting techniques to anticipate demand and adjust inventory levels accordingly. This equilibrium prevents bottlenecks and keeps your supply chain running smoothly.
Consider these tips from our experts:
Cultivate partnerships based on the compatibility of the order process and stock or just-in-time inventory of the parts you need.
Explore long-term partnerships for benefits like discounts.
Analyze historical data to predict product demand.
Use market trends to guide your own inventory decisions.
Implement inventory management tools for accurate ordering.
5. Sustainability and Social Responsibility
As the world focuses more on sustainable practices, consider suppliers who share your commitment to environmental and social responsibility. Consider procuring products from suppliers with eco-friendly and community service practices that not only align with your company mission and goals but also resonate positively with customers and stakeholders.
Consider these tips from our experts:
Consider asking suppliers about their sustainability initiatives.
Evaluate suppliers' community impact and overall social service goals.
Evaluate your own company's social responsibility practices in order to select a supplier that aligns with your organization's mission.
Take a look at how the Eurolink team is making an impact on our local community.
6. Tailoring Freight Options to Your Needs
One key factor in procurement is the timely arrival of your products and fasteners. At Eurolink FSS, we understand that time is of the essence. That's why we offer a range of freight options designed to cater to your specific requirements. From standard delivery to express air freight, we've got you covered. Think of it as having a personalized fast track to your desired fasteners, without the hassle.
Imagine needing a specific fastener yesterday. It happens, and that's where express air freight steps in. This option gets you the items you need at lightning speed. For less time-sensitive needs, standard delivery is a cost-effective solution that doesn't compromise reliability. So, whether it's the "I-need-it-now" scenario or a more laid-back approach, we've got freight options to match.
Consider these tips from our experts:
Ask your suppliers about their freight options and compare them to your ongoing needs.
Ask suppliers how often they no-quote their clients.
Evaluate your supplier's ability to deliver on quick timelines.
Subscribe to our Newsletter to get updates on our monthly consolidated sea freight and air freight order deadlines:
Streamlining the Process: Actionable Steps
Now, let's get practical. Here are actionable steps you can take to optimize your fastener procurement process:
Relationship Building: Forge strong ties with suppliers who understand your needs. This paves the way for smoother communication and potentially exclusive perks.
Data-Driven Decisions: Leverage real-time data to forecast demand accurately. This prevents overstocking, reducing unnecessary costs.
Freight Options and Speed: Prioritize suppliers like Eurolink FSS who offer top-quality products with multiple freight options at different speeds for when you need items FAST, FASTER, or FASTEST.
Social Responsibility: Opt for suppliers that have a mission that aligns with your environmental or community goals. It's not just about the environment; it aligns with your company's social responsibility goals.
The Eurolink Advantage: Sourcing Made Simple
At Eurolink FSS, our commitment to your convenience extends to every step of the process. Our array of freight choices ensures that your fasteners reach you in the manner that best suits your needs, whether it's ASAP or right on schedule. It's about providing you with flexibility, control, and peace of mind.
Parts and fastener procurements don't have to be complicated. By aligning your strategy with actionable steps and tapping into tailored freight options, you're setting your procurement journey on the path to success. Remember, it's not just about getting the parts you need; it's about securing a smoother, faster, and more efficient supply chain.
In a nutshell, as a purchasing professional, you wield the power to revolutionize your company's procurement process. With the right strategies and the right partners, like Eurolink FSS, the road to procurement excellence becomes a reality. So, are you ready to make your procurement process a symphony of success?