A2 vs A4 Stainless Steel
Part 1: An Overview
Welcome to the Eurolink's first official blog post!
I am London Penland, that big red-bearded dude from the VLOG, if you haven't seen it, check it out here: https://eurolinkfss.com/vlog/
Have you had issues with stainless steel nomenclature (i.e. the different call-outs for stainless steel and how that converts between standards)? I've got you!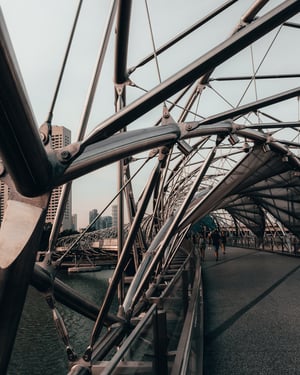 Have you ever gone to your favorite sourcing partner, like Eurolink Fastener Supply Service, and they've told you these dreaded words "unfortunately, the item you are looking for is only available from stock in A2 stainless steel" when you needed A4 or vice versa? Well, maybe those words need not be so dreaded.
My hope is that this series of articles will help you sales reps, purchasing agents, and sourcing specialists out there navigate the world of stainless steel and maybe I can entertain you a little along the way.
Sourcing A2 and A4 Stainless Steel
First of all, don't let the A2-50, A2-70, A2-80, A4-50, A4-70 and A4-80 stainless steels (among the many other numbers used to describe stainless steel, especially in the U.S. standards) confuse you as you read this. We will get to that and peel back those layers like an onion (or Donkey – seen Shrek?) as they come, maybe in this blog, more likely the next few, as this can be a quite complicated topic to digest at once, especially as we dig into the depths of all the standards… Unlike a $20 meal at Taco Bell, I'm looking to make this easily digestible for you.
Generally, when a distributor calls out for A2 or A4 stainless steel, whether or not the class is indicated (with the exception of A2-80 and A4-80 stainless steel) is usually determined by the part itself, with some items only being available from stock in one specific class of stainless steel at that material designation. For example, take a DIN 912 Socket Head Cap Screw in A2 stainless steel. One does not need to designate A2-50 stainless steel, because it is only standard stock in A2-50 stainless steel at some sizes and A2-70 at other sizes.
If you need a non-standard tensile strength (i.e. the number after the A2) for that item and size, then you'll need to specify that because they are not usually available from stock. Most major stainless steel suppliers will not have DIN 912 in A2-80 or A4-80 at all, but Eurolink has a vast network of suppliers, therefore we may be able to find it in stock with one of our secondary suppliers (i.e. more specialized vendors in Europe) or have them quickly produced.
More to Learn
So why are A2-80 and A4-80 the exception? Well, that's a topic I'll explore in one of my upcoming posts, in which I dig into why A4-80 can be so useful. You may also be wondering, "What's the deal with stainless steel in general? Why spend more for something that is actually mechanically weaker than mid class steels?" Well, the answer to that is simple: corrosion resistance. Unlike alloy steel, which with the correct coating can provide corrosion resistance on the surface, stainless steels can be corrosion resistant throughout the material due to their chemical make-up.
So, that's all the nuggets I'm going to drop today (see, digestible right?). Also, please notice the subtle potty joke, that's comedic gold right there!
Part 2 will be out next week. We will explore the nomenclature more specifically in the next article, then move into mechanical and chemical differences.
About the author: London Penland, ex-teacher, tutor and educational non-profit leader and current business development director for Eurolink Fastener Supply Service and Social Chair/Educational Director for Young Fastener Professionals, empowers sales reps, purchasing agents and sourcing agents with researched industry-specific educational videos and articles. Click here
https://eurolinkfss.com/vlog/
to see all of London's VLOGs and gain access to download his lesson plans.